Kootenays, BC – KAST, in partnership with JABC, is excited to share the news of a highly successful summer camp delivered in Nelson, BC during the first week of August. Youth in grades 8-12 attended a week-long summer camp at the Nelson Innovation Centre where they worked as teams to build out a business plan and gain the knowledge and experience needed to create a start-up and pitch it!
The program hit capacity at 13 eager students who learnt from 6 successful local entrepreneurs about the following:
Ethical standards in business
Systematically solving actual business challenges
Positive relationships between youth and business communities
Teamwork and responsibility
Gathering data, evaluating alternatives and developing a plan
Making effective sales pitches and presentations
Communication skills
The program was a major success with youth attending from across the West and East Kootenays.
"The thing I liked the most about this program was that it exposed me to a bunch of different business owners and potential investors and taught me a lot of stuff about business that I would need to know if I wanted to create my own business. It was worth it and I would recommend it to everyone else!"
-Kail, participant of JABC/KAST Company Summer Camp
Photo above: Youth along with local entrepreneurs Matt Diteljan, Gregg Coppen, Dave Damer, Brent Firkser and Fern Sabo as well as KAST's Melanie Fontaine and JABC's Alanna Tynan at the Nelson Innovation Centre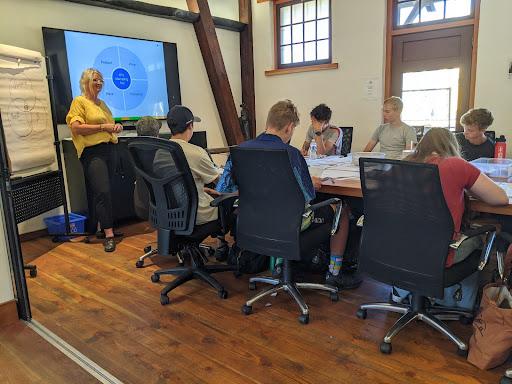 Photo: Fern Sabo from Spring Creative in Nelson with the group of up and coming local entrepreneurs at the Nelson Innovation Centre
This fall, KAST will be running a version of this program in both Cranbrook and Nelson which is a more in depth Company Building program running for 16 weeks as an afterschool program. More details will be shared in the coming weeks.
This program is supported by the Province of British Columbia.
"We had a great group come out to the Nelson Innovation Centre and show us that the next generation of entrepreneurs are well on their way to a bright future!"
-Sam Farrell, KAST East Kootenay Director
Interested in finding out more about future programs? Email us at youth@kast.com.
About KAST: Since 1998, KAST (Kootenay Association for Science & Technology) has led our region's economic development through technology and innovation. We are the only non-profit tech association serving the entire Kootenay region. Our main offerings are the Venture Acceleration Program, the Nelson Innovation Centre and Youth Programming.
About JABC: Reaching thousands of young people each year through partnerships with educators, volunteers, and donors, JABC is one of the few organizations with the experience and passion to build a brighter future for the next generation of innovators, entrepreneurs, and leaders.
For over 65 years, JABC has served B.C. youth, including Indigenous communities, people of colour, and at-risk populations. JABC's real-world training helps young people develop the skills to build successful careers, prepare for the risks and rewards of entrepreneurship, and learn to thrive financially. Through JA, young people are equipped with the skillset and mindset to build thriving communities.
JABC is a proud member of JA Canada and JA Worldwide, one of the world's largest and most impactful NGOs.
Media Contact:
Sam Farrell
KAST East Kootenay Director
sam@kast.com
www.kast.com