Kootenay, B.C. – The Kootenay Association for Science and Technology (KAST) has partnered with Spring Activator to bring the Kootenay Investment Challenge to the region. This 10-week online program will run from September through December 2022, bringing together local innovative tech entrepreneurs and angel investors looking to make an impact. The Challenge will give early-stage ventures the skills to pitch for fundraising, and investors the knowledge to make a well informed investment. The Challenge will see the investor cohort award one Kootenay entrepreneur an investment between $50,000 – $100,000.
"Part of KAST's mission is to support and connect people and businesses throughout the Kootenays," states Crystal Swan, Communications Manager for KAST. "The Kootenays are home to many investors looking to make an impact in the community and numerous leading tech innovators, both of whom would benefit from a regionally focused program. This program will bring these two groups together and provide them with the knowledge required and access to industry-leading experts to guide them through the investment process."
The Kootenay Investment Challenge is a unique opportunity for investors who are experienced or new to angel investing. Traditionally, only accredited investors can partake in angel investing; however, this program's design allows non-accredited investors to join. Participants will learn the fundamentals of investing, discover the steps to perform their due diligence properly, and determine how to select an investment. This Challenge is for anyone looking to make an impact in the local tech community.
"Impact Investor Challenges are designed so that new investors (as well as experienced investors) can act on their personal values and commitments. They receive hands-on training and go through the process of doing an investment in a locally impactful business. They come out of the program with new connections, investment experience and a private investment added to their investment portfolio." Davina MacPhail, Program Manager at Spring Activator
This program includes collaborative training for investors and entrepreneurs and two pitch events. In the weeks preceding the Challenge, entrepreneurs will participate in an Investment Readiness training program facilitated by Spring Activator and Volition. The participating tech founders will build out their data room, develop a pitch deck and receive pitch coaching. This training program will conclude with all companies competing in the first of the Challenges two pitch events. After the first pitch event, the investor cohort will select the top businesses to compete for the investment at the grand finale.
"At Volition, our mission is to support founders on their entrepreneurial journey, providing them the tools and training they need to build and grow resilient, sustainable businesses. We know that fundraising is a daunting time for many founders and startup teams, and we are honoured to be working alongside the teams at KAST and Spring to deliver the Investment Readiness Training Program for early-stage ventures across the Kootenays region."
KAST is accepting applications from Kootenay region entrepreneurs and investors who would like to participate in the Challenge. We encourage all Kootenay tech entrepreneurs to apply for the program, even if you are only thinking about seeking investor funding. KAST will consider any tech business based in the Kootenay region or demonstrating solid ties to the area.
To learn more about the Kootenay Investment Challenge and apply, please visit: www.kast.com/kic/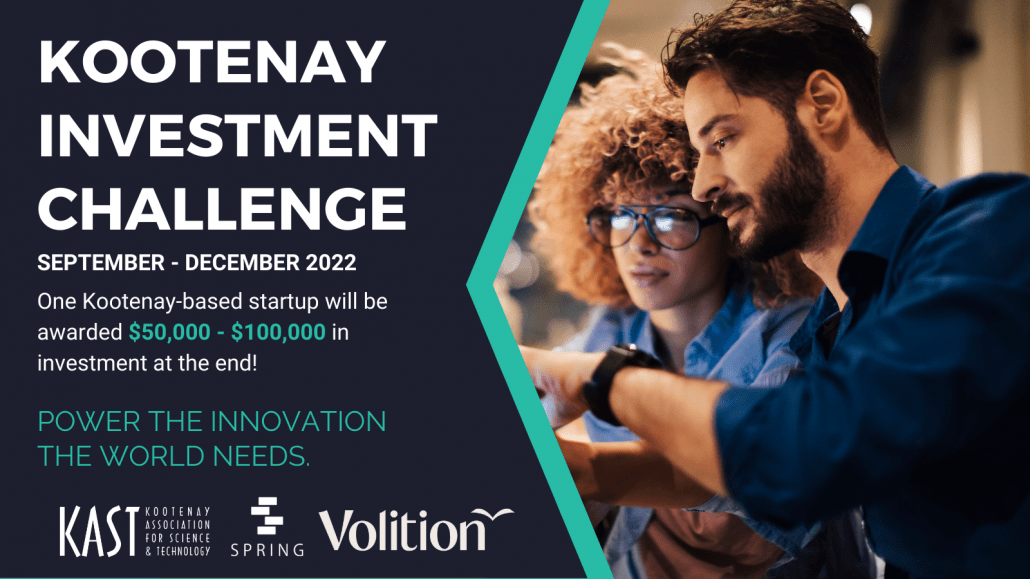 About the partners
About KAST
Since 1998, KAST (Kootenay Association for Science & Technology) has led our region's economic development through technology and innovation. We are the only non-profit tech association serving the entire Kootenay region. Our main offerings are the Venture Acceleration Program, the Nelson Innovation Centre and Youth Programming.
About Spring Activator
Spring empowers impact entrepreneurs, investors, and ecosystem influencers to connect and change the world through innovation. For entrepreneurs in the idea stage to raise their first investment round, we provide the tools, training, and network to validate and launch their business, gain traction, and raise capital with the goal of changing the world. For investors, Spring delivers tailored programming, networking events, and access to deal flow to angel investors who are focused on early stage impact ventures. Spring has reached more than 50 communities on 5 continents and continues to serve investors, entrepreneurs, and partners at every stage of their journey. More information at www.spring.is.
About Volition
At Volition we help founders navigate their knowledge gaps and "now what?" moments through startup business advising, educational programming, and community events. We know that a strong business is one that can adapt, refine and sustainably grow, and our coalition of Advisors are here to help founders to build clarity and confidence to their entrepreneurial journey. Since 2017, we have worked with ecosystem partners across 20 global communities to serve 1500+ founders and their teams. More information at: volitionadvisors.com
Media Contact
Crystal Swan | Communications & Administration Manager, KAST | crystal@kast.com
Davina MacPhail | Impact Investing Program Manager, Spring Activator | davina@spring.is